Rising tennis star Maria Shishkina
Not too long ago, Under Armour declared cotton to be the enemy.
Things have changed.
Earlier this week, Under Armour released its first-ever performance cotton shorts. It's part of the Charged Cotton line, which Under Armour is rolling out this spring. The Women's Charged Cotton Shorts are 95% cotton, which makes them unlike anything Under Armour has made yet.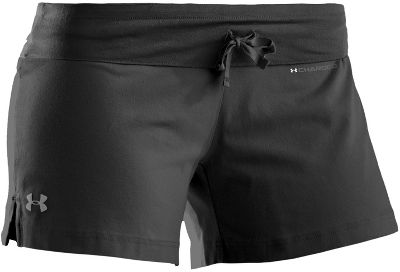 Why the sudden peace treaty with cotton?
As an article in Just-Style explains, it's all about research. They originally shied away from cotton, because it's heavy, thick and doesn't do much for wicking away moisture.
But now, Under Armour has developed a blend of fibers that not only has the comfort and feel of cotton, it also has the same moisture wicking and temperature regulating properties we've come to expect from UA.
Or more specifically:
Consisting of alternating hydrophilic (moisture absorbing) and hydrophobic (moisture repelling) cotton yarns, Charged Cotton pushes out sweat when it comes in contact with the fabric. As a result, moisture spreads across the surface area of the clothing, thus speeding evaporation and helping athletes keep cool. And to prove that it's working, the fabric takes on a "strided" look as the wearer starts to sweat.

As if this wasn't enough, the company describes the new fabric – a mix of 95% cotton and 5% elastane – as the "softest, most comfortable material Under Armour has ever produced," adding that it dries five times faster than ordinary cotton and combines stretch and recovery for a lower "cling force" and a stick-free fit.
That makes it perfect for wearing to practice, to the gym or as a casual pair of shorts.
Get them for $27.99 at Volleyball America.
Related: See our entire selection of volleyball apparel.